Wedding Accommodations Onsite
Meeting and Event Accommodations 
Waldenwoods Resort has the unique benefit of offering our events and their guests on site lodging like no other by staying overnight in our historic Sunshine or Friendship Lodge (based on availability and prior event reservation).  Set within walking distance of both of our waterfront reception areas these two lodging buildings built in the 1920's have been renovated to bring together family and friends in the spirit of community and celebration.  The focus of our on site lodging is simplistic in amenities, plentiful in opportunity for personal connection and rich in natural surroundings and beauty.
If you are hosting your meeting or event at Waldenwoods and would like to secure lodging contact our event planning professionals in the office at 810-632-6401 for availability and booking opportunities.  If you are attending a meeting or event at Waldenwoods as a guest, contact us with the event name to inquire if lodging is available to book.    
Sunshine Lodge was built in 1925 with 17 individual guest rooms with their own in-suite restroom. Rooms accommodate from 2-4 guests.   A community-style living room with a gas fireplace and group seating is centrally located in the lodge along with an outdoor portable fire pit.   The lodge also has a spectacular scenic front porch overlooking Lake Walden and facing North West for amazing sunsets. Additionally, a stone-built porch facing the woods on the East side is perfect for taking in the vast array of nature.  Rooms are $125.00 per night plus tax.  There is no air conditioning in the lodge.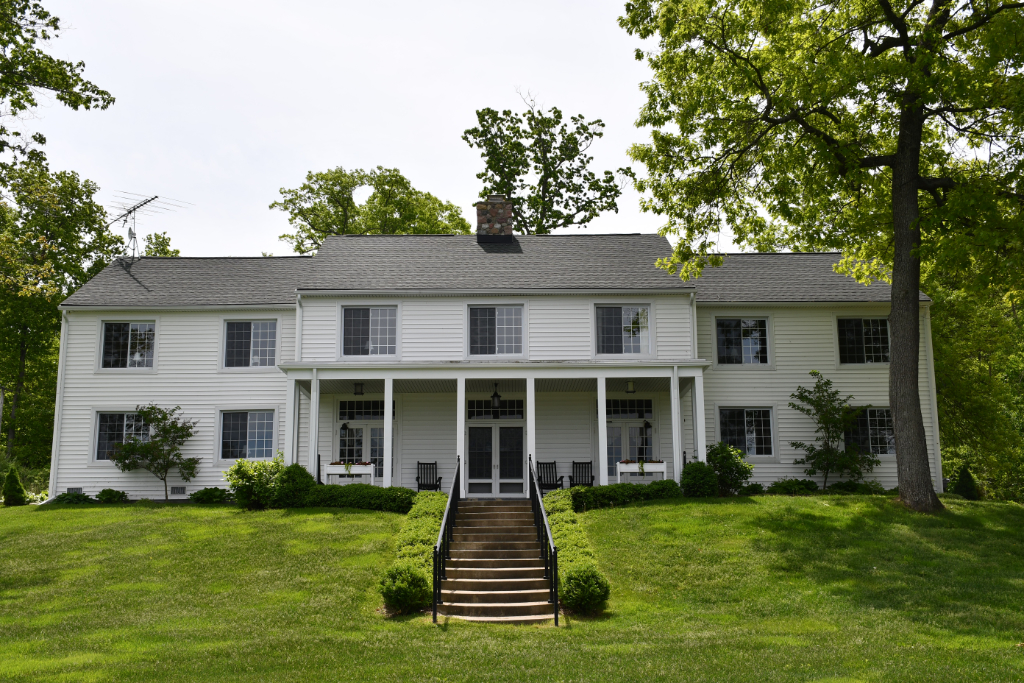 Friendship Lodge was built in 1925 and is a 19-bedroom community-style cottage with shared restroom facilities on both floors.  The lodge sits on a small rise overlooking the Lake shaded by large oak trees. Friendship also has a spacious community living room complete with a large stone gas fireplace and double doors that open overlooking Lake Walden and the Western sky. A large fire pit located in the backyard enables guests to sit, relax and reminisce after the event. Friendship Lodge is rented by the event couples and rooms are assigned by them for their guests. The Lodge is $2000 per night plus tax.  There is no air conditioning in the lodge.